IPM or integrated pest management is an important tool in managing any landscape pests and diseases. We use IPM to assist us in reducing the amount and frequency of any pesticide applications. By using action thresholds, monitoring and prevention we avoid most blanket sprays until we know that controls are required.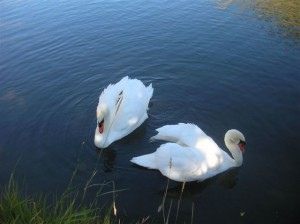 IPM helps keep our waters pristine and our wildlife safe.
Since we cover a large geographical area, our staff is trained to monitor a wide array of pests and diseases.  Among them are: pine needle scale, oyster shell scale, needle cast, pine weevil, billbug, spiders, tent caterpillars, spider mites, aphids, thripes and voles among others.
We continue to strive to do more with less pesticide applications.  Our newest spray technology allows us to place some insecticides when required as a bark drench rather than spraying the entire canopy of the tree.  This uses less pesticide in a more targeted fashion and virtually no overspray into the air.   We also offer injections directly into the tree bark as alternate method of delivery of some other insecticides.
Proper posting & notifications are important to the clients, their guests and the general public. We always post as required by both the state and federal laws.